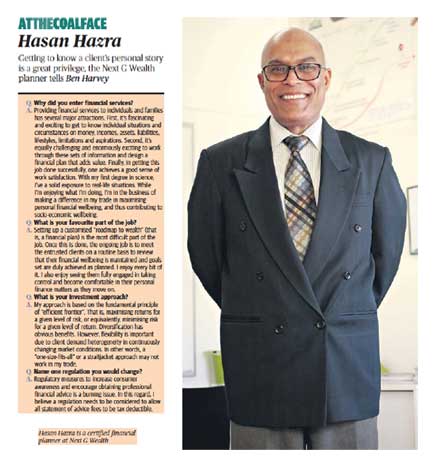 ATTHECOALFACE – Hasan Hazra
Ref: The West Australian "YOUR MONEY" published 27th August 2015
---
Hasan Hazra MSc, G DipFP

With above average academic achievements Mr Hazra developed his first career as a Geologist and had been engaged in teaching, research and exploration roles for 11 years before he made a move to Financial Planning in 2000. In 2009, he was engaged in a part-time teaching role at Curtin Business School, Curtin University, WA.

To prioritise & maintain 'best interests' of his clients seamlessly, he set up the boutique practice Next G Wealth Pty Ltd in 2010. As a director & sole practitioner, he provides financial services to his clients as a representative of Next G Wealth.

As a CERTIFIED FINANCIAL PLANNER® practitioner he specialises in providing high quality & effective planning strategies to his clients in achieving their financial & lifestyle goals. The areas he specialises include (but not limited to): personalised strategies to boost & grow superannuation, tax effective investment strategies to create wealth, life risk insurance strategies to protect family financially, strategies to pay off personal debts & mortgage sooner, personalised pre-retirement & retirement strategies etc. In his professional trade, he is in the business of making a difference in maximising his clients' financial wellbeing, and thus contributing to socio-economic wellbeing.

He realised early in this trade the fact that family budget, mortgage or a personal debt could become stumbling blocks if not managed well in achieving financial freedom. Therefore, he also became a Credit Adviser (mortgage broker) in 2010. In this regard, he assists his clients manage mortgage/banking in a planned way to achieve their banking & borrowing needs effectively.

His key focus is to maintain long-term relationships with his clients offering clear guidance as a family coach in achieving their life goals whilst assisting them take control & feel comfortable throughout their life-long journey.